This post touches tangentially on some current issues of great concern, but in itself focuses on a very minor detail of modern-day English pronunciation, of interest chiefly or solely to language nerds.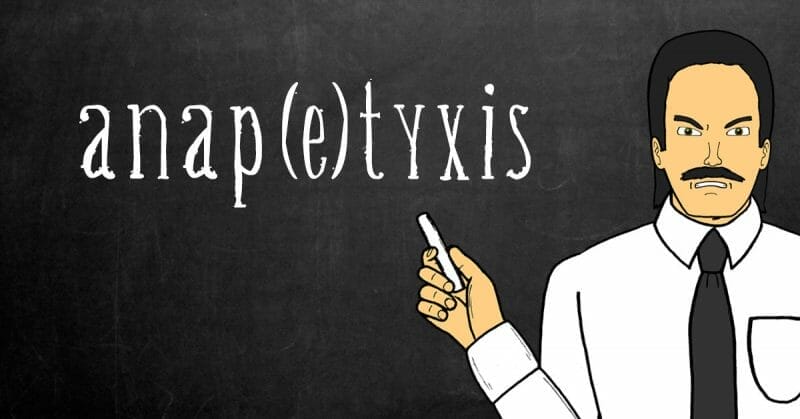 The word epenthesis included in the title means the insertion of an extra sound in a word. Anaptyxis (the insertion of a vowel) is an even more precise term for what I am talking about, but I was afraid the second term would be less generally known. Here are some English examples of anaptyxis:
"fillum" for "film"

A pronunciation found in Ireland and in some other local pronunciations. See this post on the subject.

"mischievious" for "mischievous"

With concomitant displacement of the stress to the second syllable. No doubt modeled on words like "impervious."

"Cuh-razy, cuh-razy," very emphatic pronunciation of "crazy"

Used by a character in the 1963 fillum Bye Bye Birdie.
A Widespread Current Case of Anaptyxis: C l > C ə l
Some decades ago, perhaps as long ago as the 1960s, I was struck by how sports commentators and speakers at athletic events would sometimes pronounce "athlete" with three syllables, with an extra "schwa" sound [ə] in between the "th" and the "l": "a-thuh-lete" [æ θə lit] (rather than two: [æ θlit]). Similarly, "athletic(s) was sometimes increased to four syllables: "a-thuh-let-ic(s)" [æ θə lɛd ɪk(s)] In a like way, "paraplegic" was sometimes pronounced with five syllables, "par-a-puh-le-gic" [pɛr ə pə li dʒɪk] instead of with four, [pɛr ə pli dʒɪk]. (For information on the symbols of the International Phonetic Alphabet, see here.)
Towards the end of 2019 I began following the impeachment hearings in the House and listening online to commentaries by all sorts of people. As a result, I found myself listening to much more spoken English than has been my wont for a while, or perhaps than I ever did. I have continued this practice in 2020, when the pandemic and racial injustice became the issues of primary interest.
As a consequence I have become aware of related cases in which many Americans, at least in the context of public speaking, add a schwa between a consonant and an "l," where I would pronounce these two consonants together.
It involves verbs of the type "trample," which in the base form I would indeed pronounce "tram-puhl" [træm pəl], and the past "trampled" as "tram-puhld" [træm pəld], but in the forms with an additional syllable such as "-ing" I would dispense with the intervening [ə] and say "tram-pling" [træm plɪŋ], but newscasters, interviewees, and commentators prefer to say "tram-puhl-ing" [træm pəl ɪŋ].
Some more examples:
"enabling" = "en-a-buhl-ing" [ɛn eʲ bəl ɪŋ]
"doubling (down)" = "dou-buhl-ing" [dʌ bəl ɪŋ]
"troubling" = "trou-buhl-ing" [trʌ bəl ɪŋ]
"stiffling" = "sti-fuhl-ing" [staʲ fəl ɪŋ]
"(mind-)boggling" = "bog-guhl-ing" [bɑ gəl ɪŋ]
"coupling" = "cou-puhl-ing" [kʌ pəl ɪŋ]
"troubling" = "trou-buhl-ing" [trʌ bəl ɪŋ]
"meddling" = "med-duhl-ing" [mɛ dəl ɪŋ]
"struggling" = "strug-guhl-ing" [strʌ gəl ɪŋ]
"grappling" = "grap-puhl-ing" [græ pəl ɪŋ]
"unsettling" = "un-set-tuhl-ing" [ən sɛ dəl ɪŋ]
"rambling" = "ram-buhl-ing" [ræm bəl ɪŋ]
"assembling" = "as-sem-buhl-ing" [ə sɛm bəl ɪŋ]
"trembling" = "trem-buhl-ing" [trɛm bəl ɪŋ]
"humbling" = "hum-buhl-ing [hʌm bəl ɪŋ]
"stumbling" = "stum-buhl-ing [stʌm bəl ɪŋ]
"handling" = "han-duhl-ing" [hæn dəl ɪŋ]
"dwindling" = "dwin-duhl-ing" [dwɪn dəl ɪŋ]
"bundling" = "bun-duhl-ing" [bʌn dəl ɪŋ]
"dangling" = "dang-guhl-ing" [dæŋ gəl ɪŋ]
Why This Additional Sound?
Of course, the base form, e.g., "double," has the extra vowel [ə], because at some point English-speakers refused to accept the French way of pronouncing this word (which was borrowed from French), that is, with the word ending essentially with a double consonant "bl" (with possibly a little vowel sound coming after): [dublᵊ]. So, the new English form of the word, "dou-buhl" [dʌ bəl] could certainly be generalized to other situations: [dʌ bəl ɪŋ]. But it was not how I grew up saying these words ending in "-ing."
I surmise that the reason people such as news commentators and other public speakers adopt this pronunciation is that they imagine it makes the word clearer. I note that the same speaker will occasionally pronounce such a word both ways, with and without an extra schwa. So I imagine, when they stretch out these words, they are making an effort to be extra-clear.
A similar concern may have been behind the pronunciations "a-thuh-let-ic(s)" and "par-a-puh-le-gic." And finally, there is this: a choir director I once had encouraged us to pronounce (that is, to sing) "gloria" with an extra schwa: "guh-lor-i-a" for just this reason. (Linguists generally explain the phenomenon of anaptyxis as due to the desire to differentiate two contiguous consonant sounds.)
Is one of these pronunciations better than the other? Not in a linguistic perspective, which assumes that Tous les dialectes se valent (All dialects are of equal worth) and that change is a necessary part of language. The pronunciation without the schwa takes (very slightly) less time, and the pronunciation with the schwa is perhaps (very slightly) clearer. Hence the Professor in the image is wrong to be angry (if that is what he is). Maybe he is simply upset at the misspelling.
I'd be interested to know how my readers pronounce words of this kind, with distinction made of the circumstances: ordinary speech or formal speech. You can use the comment section below.