---
Introduction
Below is the Old French text of Marie de France's Lanval, one of her twelve "lays" of Breton inspiration, together with an English translation by the Professor (me). Interspersed are notes on a few passages. For a more in-depth study, see the Commentary.
The Text Used
The text is that of the 1900 edition by Karl Warnke, as available at Wikisource. A scan of the printed book is here. I have also consulted the 1981 CFMA edition by Jean Rychner. Both editions prioritize manuscript "H" = British Museum, Harley 978, which I have also consulted online. (In manuscript H the Lais begin at folio 118r. Lanval is on folios 133v-138v. A PDF of these pages is here.)
I have borrowed the line numbering of Rychner and included only the lines he admits (those in manuscript H).
Translating Principles
My translation adheres fairly closely to the Old French text, in particular with regard to verb tenses. A present tense verb I always translate with present tense1; a passé composé I always translate with a present perfect. (You will be relieved to hear that I am less rigid in translating imperfects.) The resulting awkwardness I allow in favor of transparency to the original, even while realizing that, often enough, an Old French author chose the tense to suit the meter or the rhyme.
Except when they are used in direct address, I have translated ami(s) as "lover" and amie as "lady friend." (On account of the, you know, bienséances [proprieties].)
Other Online English Translations
There is a much smoother 1911 prose translation by Eugene Mason available at Wikisource. Disadvantages of it are that 1) it is based on an earlier, less satisfactory edition of the Old French and 2) it bowdlerizes rather more than it should the physical side of the human-immortal relationship. There is also a 1990s English verse translation by Judith Shoaf.
---
Text and Translation
Lines 1-32. Overlooked and Isolated
L'aventure d'un altre lai,
cum ele avint, vus cunterai.
Faiz fu d'un mult gentil vassal;


4

en Bretanz l'apelent Lanval.
The adventure of another lay,
Just as it happened, I will tell you.
It was told of a very noble vassal;


4

In Breton they call him Lanval.
A Kardoeil surjurnot li reis,
Artur, li pruz e li curteis,
pur les Escoz e pur les Pis


8

ki destrueient le païs;
en la terre de Loengre entroënt
e mult suvent le damajoënt.
A la pentecuste en esté


12

i aveit li reis sujurné.
Asez i duna riches duns
E as cuntes e as baruns,
a cels de la table roünde


16

(n'ot tant de tels en tut le munde!)
femmes e terres departi,
fors a un sul ki l'ot servi.
At Carduel the king was staying,
Arthur, the valiant and courteous,
On account of the Irish and the Picts


8

Who were devastating the countryside;
They used to enter the land of Logres
And very often caused it harm.
At Pentecost, in summer,


12

The king had stayed there.
He gave rich gifts in great number
To both the counts and the barons,
To those of the Round Table


16

(There were not so many of their like in all the world!)
He portioned out wives and lands—
Except to one who had served him.
Line 5. Carduel could be Carlisle in Cumbria, formerly Cumberland, or it could be a site in Wales. See this Wikipedal stub.

Line 6: Artur, li pruz e li curteis. At least from Geoffrey of Monmouth on (History of the Kings of Britain, 1130s), King Arthur was the accepted paragon of the two essential virtues of the courtly knight, prowess and courtesy.
Line 9. Logres is the name of Arthur's kingdom. In modern Welsh, it is used to refer to the part of the island overrun by the "Saxons" (Lloegr).
Ceo fu Lanval ; ne l'en sovint,


20

ne nuls des soens bien ne li tint.
Pur sa valur, pur sa largesce,
pur sa bealté, pur sa pruësce
l'envioënt tuit li plusur;


24

tels li mustrout semblant d'amur,
s'al chevalier mesavenist,
ja une feiz ne l'en pleinsist.
Fiz a rei fu, de halt parage,


28

mes luin ert de sun heritage.
De la maisniee le rei fu.
Tut sun aveir a despendu;
kar li reis rien ne li dona,


32

ne Lanval ne li demanda.
This was Lanval. He did not remember him,


20

Nor did any of his people act well towards him.
On account of his valor, of his largesse,
Of his beauty, of his prowess,
A very great number envied him;


24

Such there were that feigned friendship for him,
But if anything bad happened to the knight,
Not once did they express any sympathy.
He was the son of a king, of high birth,


28

But he was far from his heritage.
He belonged to the household of the king.
He has spent all he owned;
For the king give gave him nothing,


32

Nor did Lanval ask him for anything.
Lines 33-79. A Close Encounter
Ore est Lanval mult entrepris,
mult est dolenz, mult est pensis.
Seignur, ne vus en merveilliez:


36

huem estranges, descunseilliez
mult est dolenz en altre terre,
quant il ne set u sucurs querre.
Li chevaliers dunt jeo vus di,


40

ki tant aveit le rei servi,
un jur munta sur sun destrier,
si s'est alez esbaneier.
Fors de la vile en est eissuz;


44

tuz suls est en un pre venuz.
Now is Lanval in a very tight corner;
He is very sorrowful, he is very pensive.
Lords, do not be amazed at it;


36

A foreign man, counselless,
Is very sorrowful in another land,
When he does not know where to seek aid.
The knight of whom I tell you,


40

Who had served the king so much,
One day mounted his charger
And has gone off to disport himself.
He has gone out of the town;


44

Quite alone he has come to a meadow.
Sur une ewe curant descent;
mes sis chevals tremble forment:
il le descengle, si s'en vait,


48

en mi le pre vultrer le lait.
Le pan de sun mantel plia
desuz sun chief, si se culcha.
Mult est pensis pur sa mesaise,


52

il ne veit chose ki li plaise.
La u il gist en tel maniere,
guarda a val lez la riviere,
si vit venir dous dameiseles;


56

unc nen ot veües plus beles.
Vestues furent richement,
Lacie(e)s mut estreitement
en dous blialz de purpre bis;


60

mult par aveient bels les vis.
L'einznee portout uns bacins
d'or esmeré, bien faiz e fins:
le veir vus en dirai senz faille;


64

l'altre portout une tuaille.
He dismounts next to a stream;
But his horse trembles greatly:
He unsaddles him, and he goes off,


48

Letting it roll in the meadow.
He folds up his cloak
Under his head and lies down.
He is very pensive on account of his distress.


52

He sees nothing that pleases him.
There where he lay in such a manner,
He looked downstream along the river
And saw two damsels coming.


56

Never had he seen more beautiful.
They were richly clothed,
Tightly laced
in two gowns of purple linen;


60

Their faces were very lovely.
The elder was carrying a pair of basins
Of pure gold, well made and elegant—
The truth I will tell you without fail—


64

The other was carrying a towel.
Eles en sunt alees dreit
la u li chevaliers giseit.
Lanval, ki mult fu enseigniez,


68

cuntre eles s'est levez en piez.
Celes l'unt primes salué,
lur message li unt cunté.
'Sire Lanval, ma dameisele,


72

ki mult par est curteise e bele,
ele nus enveie pur vus :
kar i venez ensemble od nus !
Salvement vus i cunduiruns.


76

Veez, pres est sis paveilluns ! '
Li chevaliers od eles vait ;
de sun cheval ne tient nul plait,
ki devant lui pesseit el pre.
They have gone straight
To where the knight was lying.
Lanval, who was well instructed,


68

Has gotten up at their approach.
First they have greeted him,


(then)

They have told him their message.
"Sir Lanval, my lady,


72

Who is exceedingly courteous and lovely,
She sends us on your account:
Come along with us, pray!
We will guide you safely.


76

See, her pavilion is near."
The knight goes with them;
He is not concerned about his horse,
Which was browsing before him in the meadow.
Lines 80-106. A Generous Offer
80

Des i qu'al tref l'unt amené,
ki mult fu beals e bien asis.
La reïne Semiramis,
quant ele ot unkes plus aveir


84

e plus puissance e plus saveir,
ne l'emperere Octovian
n'eslijassent le destre pan.
Un aigle d'or ot desus mis ;


88

de cel ne sai dire le pris
ne des cordes ne des pessuns
ki del tref tienent les giruns :
suz ciel n'a rei kis eslijast


92

pur nul aveir qu'il i donast.
Dedenz cel tref fu la pucele.

80

They have led him right up to the tent,
Which was very lovely and well situated.
Neither Queen Semiramis,
When she was at her richest,


84

Most powerful, and wisest,
Nor the Emperor Octavian,
Could have afforded the right flap.
A golden eagle there was placed atop it;


88

I cannot say its worth,
Nor that of the ropes nor of the stakes
That hold the skirts of the tent in place;
There's not a king under heaven that could afford them


92

For any wealth that he might give for it.
Within that tent was the maiden.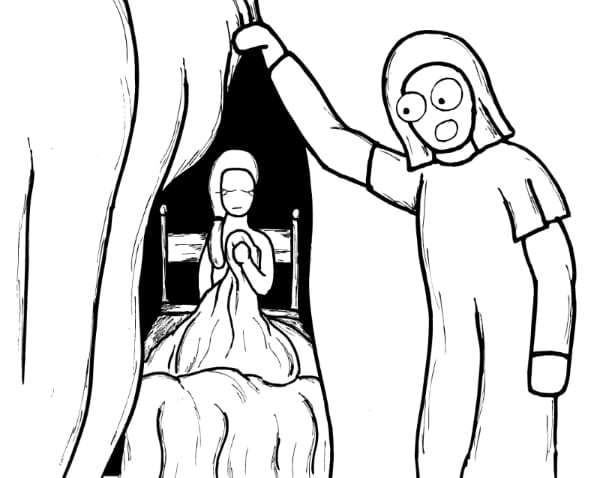 Flur de lis e rose nuvele,
quant ele pert el tens d'esté,


96

trespassot ele de bealté.
Ele jut sur un lit mult bel
(li drap valeient un chastel)
en sa chemise senglement.


100

Mult ot le cors bien fait e gent.
Un chier mantel de blanc hermine,
covert de purpre Alexandrine,
ot pur le chalt sur li geté ;


104

tut ot descovert le costé,
le vis, le col e la peitrine :
plus ert blanche que flurs d'espine.
The lily and the new-blown rose,
When it appears in summer-time,


96

She surpassed in beauty.
She lay on a very beautiful bed—
The sheets were worth a castle—
In her shift and nothing else.


100

Her body was very well made and fine.
A costly mantle of white ermine,
Lined with Alexandrian silk,
She had, on account of the heat, thrown off;


104

One side was completely uncovered,
Her face, her neck, and her bosom;
She was whiter than a hawthorn.
Lines 82-92, 98. Medieval fascination with costly accouterments should not be interpreted (as it might in a modern context) as merely crass; so says C.S. Lewis, speaking about precisely this passage (Discarded Image, "The Longaevi").
Line 92. The word pucele, "maiden," has perhaps a somewhat broad meaning when applied to a fairy being. Aphrodite might be an appropriate comparison.
Li chevaliers avant ala,


108

e la pucele l'apela.
Il s'est devant le lit asis.
'Lanval', fet ele, 'bels amis,
pur vus vinc jeo fors de ma terre ;


112

de luinz vus sui venue querre.
Se vus estes pruz e curteis,
emperere ne quens ne reis
n'ot unkes tant joie ne bien ;


116

kar jo vus aim sur tute rien.'
Il l'esguarda, si la vit bele ;
amurs le puint de l'estencele
ki sun quer alume e esprent.


120

Il li respunt avenantment.
'Bele', fet il, 'se vus plaiseit
e cele joie m'aveneit
que vus me volsissiez amer,


124

ne savriëz rien comander
que jeo ne face a mun poeir,
turt a folie u a saveir.
Jeo ferai voz comandemenz ;


128

pur vus guerpirai tutes genz.
Ja mes ne quier de vus partir :
ceo est la riens que plus desir.'
The knight went forward,


108

And the maiden called him.
He has sat down before the bed.
"Lanval," she says, "Fair friend,
For you I came out of my land;


112

From far away I have come seeking you.
If you are valiant and courteous,
No emperor nor count nor king
Had ever so much joy or wealth;


116

For I love you above everything."
He looked and her and saw that she was beautiful;
Love pricks him with the spark
That lights and kindles his heart.


120

He answers her becomingly.
"Lovely one," he says, "If it should please you,
And if this joy should come to me
That you would elect to love me,


124

You couldn't possibly command anything
That I wouldn't do to my power,
Whether it turned to folly or wisdom.
I will do your commandments.


128

For your sake I will leave all peoples.
I will never seek to leave you:
It is the thing I most desire."
Quant la pucele oï parler


132

celui ki tant la pout amer,
s'amur e sun cors li otreie.
Ore est Lanval en dreite veie !
Un dun li a duné aprés :


136

ja cele rien ne vuldra mes (R: vudra)
que il nen ait a sun talent ;
doinst e despende largement,
ele li trovera asez.


140

Ore est Lanval bien assenez :
cum plus despendra richement,
e plus avra or e argent.
'Amis', fet ele, 'or vus chasti,


144

si vus comant e si vus pri :
ne vus descovrez a nul hume !
De ceo vus dirai jeo la sume.
A tuz jurs m'avriëz perdue,


148

se ceste amurs esteit seüe ; (R: Si)
mes ne me purriëz veeir
ne de mun cors saisine aveir.'
Il li respunt que bien tendra


152

ceo qu'ele li comandera.
When the maiden heard speak


132

The one who could love her so much,
She grants him her love and her body.
Now is Lanval on the right path!
Afterwards she has given him a gift:


136

Never will he want a thing
And not have it as he desires;
Let him give and dispense widely.
She will find sufficient for him!


140

Now is Lanval well provided for:
The more richly he dispenses,
The more gold and silver he will have.
"Friend," she says, "Now I advise you,


144

And order you and beg you,
Do not reveal yourself to anyone!
About this I will tell you the whole story:
For always you would have lost me,


148

If this love were known.
Never would you be able to see me more,
Nor have ownership of my body."
He answers her that he will keep carefully


152

What she has commanded him.
Lines 112, 128. Both lovers are willing to abandon the rest of their societies in order to be with the beloved.
Line 133. The word cors ("body") no doubt means more than just the physical, and could be translated "person" ("I grant you my heart and my person"). However, the physical is certainly included here. The word saisine (possession, ownership) in line 150 also underscores the point.

Lines 135-42. There is no more shame in the penniless Lanval's accepting the financial support of his (magically) wealthy mistress, than there is in a Jane Austin heroine's accepting the proposal of a wealthy suitor. Both have to have an adequate monetary foundation to fulfill their rôles in society.
Lines 143-50. This prohibition has a basis in two different domains. One is that of "courtly love" (fin' amors): a lover never reveals the name of his beloved, so as to safeguard both the lady's reputation, and the lofty character of their love. The other is that of fairy lore: a mortal who is allowed commerce with fairies must never reveal hizzer privilege to other mortals, on pain of being forever cut off.
Lines 153-200. The Promise
De lez li s'est el lit culchiez;
ore est Lanval bien herbergiez!
Ensemble od li la relevee


156

demura jusqu'a la vespree,
e plus i fust, se il poïst
e s'amie li cunsentist.
'Amis', fet ele, 'levez sus !


160

Vus n'i poëz demurer plus.
Alez vus en ; jeo remeindrai.
Mes une chose vus dirai :
quant vus voldrez a mei parler,


164

ja ne savrez cel liu penser,
u nuls peüst aveir s'amie
senz repruece e senz vileinie,
que jeo ne vus seie en present


168

a faire tut vostre talent;
nuls huem fors vus ne me verra
ne ma parole nen orra.'
He has lain down by her side;
Now is Lanval well lodged!
Together with her the whole afternoon


156

He stayed until the evening,
And he would have remained more, had he been able
And had his friend allowed him.
"Friend," she says, "Get up!


160

You cannot stay here any longer.
Leave; I will stay.
But I will tell you a thing:
When you want to speak to me,


164

You cannot think of a place
Where a person could have his lady friend
Without reproach and with baseness,
That I won't at once be with you


168

To do all your desire.
No one save you will see me
Nor hear my speech."
Lines 163-70. It is a common occurrence in fairy lore that a particular mortal may be so blessed (or cursed) as to be able to see fairy folk, whereas ordinary mortals cannot. Here, the invisibility of fairy folk is placed in addition at the service of fin' amors ("courtly love") by keeping the lovers' trysts (likely to be frequent in the case of Lanval and his lady) hidden from prying eyes.
Quant il l'oï, mult en fu liez ;


172

il la baisa, puis s'est dresciez.
Celes ki al tref l'amenerent
de riches dras le cunreerent.
Quant il fu vestuz de nuvel,


176

suz ciel nen ot plus bel dancel;
n'esteit mie fols ne vileins.
L'ewe li donent a ses meins
e la tuaille a essuier;


180

puis li aportent a mangier.
Od s'amie prist le super;
ne faiseit mie a refuser.
Mult fu serviz curteisement,


184

e il a grant joie le prent.
Un entremés i ot plenier,
ki mult plaiseit al chevalier:
kar s'amie baisout sovent


188

e acolot estreitement.
When he heard it, he was very happy about it.


172

He kissed her, then he has gotten up.
The maidens who brought him to the tent
Fit him out with costly garments.
When he was newly dressed,


176

Beneath heaven there was no fairer youth;
He was by no means foolish nor boorish.
They give him the water for his hands
And the towel to dry them.


180

Then they bring him something to eat.
With his lady friend he took supper –
He could hardly refuse.
He was served very courteously,


184

And he receives it with great joy.
Between servings there was a plenteous dish
That pleased the knight greatly:
For his lady friend kissed him often


188

And embraced him closely.
Quant del mangier furent levé,
sun cheval li unt amené,
Bien li ourent la sele mise;


192

mult a trové riche servise.
Il prent cungié, si est muntez,
vers la cité en est alez,
Suvent reguarde ariere sei.


196

Mult est Lanval en grant esfrei;
de s'aventure vait pensant
e en sun curage dotant.
Esbaïz est, ne set que creire;


200

il ne la quide mie a veire.
When they were arisen from eating,
They have brought his horse to him,
They had well placed the saddle for him.


192

He has found a rich service.
He takes his leave, and has mounted,
He has left for the city.
Often he looks behind him;


196

Lanval is in very great fear.
Of his adventure he keeps thinking
And keeps doubting in his heart.
He is fearful; he doesn't know what to think.


200

He thinks the adventure is scarcely credible.
Lines 195-200. In any age, Marie's 12th century, Lanval's (whenever that was), or our own, an encounter such as Lanval has just been through is acknowledged to be vanishingly rare. It is no wonder the hero questions the experience.

Lines 201-68. An Amorous Queen
Il est a sun ostel venuz;
ses humes trueve bien vestuz.
Icele nuit bon ostel tint;


204

mes nuls ne sot dunt ceo li vint.
N'ot en la vile chevalier
ki de surjur ait grant mestier,
que il ne face a lui venir


208

e richement e bien servir.
Lanval donout les riches duns,
Lanval aquitout les prisuns,
Lanval vesteit les jugleürs,


212

Lanval faiseit les granz honurs.
n'i ot estrange ne privé
a qui Lanval n'eüst doné.
Mult ot Lanval joie e deduit:


216

u seit par jur u seit par nuit,
s'amie puet veeir sovent,
tut est a sun comandement.
He has come to his dwelling;
He finds his men well dressed.
That night he entertained well,


204

But nobody knew whence it came to him.
There was not a knight in the town
In great need of lodging
That he doesn't have come to him,


208

And be richly and well served.
Lanval handed out rich gifts,
Lanval freed prisoners,
Lanval clothed entertainers,


212

Lanval did great honors.
There was no stranger or intimate
To whom Lanval would not have given.
Lanval had great joy and pleasure:


216

Day or night,
He can see his lady friend often;
Everything is as he commands.
Line 215. One of the meanings of joie (as of joi, the Occitan equivalent) is the blissful experience of sexual union between two fins amans (noble lovers). The two words joie and deduit here form a binôme (doublet), that is, a unitary concept. There should be no doubt about the physical component in the relationship of Lanval and his lady.

Ceo m'est a vis, meïsmes l'an


220

aprés la feste Seint Johan
des i qu'a trente chevalier
s'erent alé esbaneier
en un vergier desuz la tur


224

u la reïne ert a surjur.
Ensemble od els esteit Walwains
e sis cusins, li beals Ywains.
Ceo dist Walwains, li frans, li pruz,


228

ki tant se fist amer a tuz:
"Par deu, seignur, nus faimes mal
endreit nostre cumpain Lanval,
ki tant est larges e curteis


232

e sis pere est si riches reis,
que nus ne l'avum amené.'
A tant sunt ariere turné.
A sun ostel revunt ariere,


236

Lanval ameinent par preiere.
It seems to me, the same year,


220

After the feast of Saint John,2
Up to thirty knights
Had gone to disport themselves
In an orchard below the tower


224

Where the queen was staying.
Together with them was Gawain
And his cousin, the handsome Yvain.
Gawain, the noble, the valiant,


228

Who made made himself so beloved by all, said:
"By God, lords, we do ill
Towards our companion Lanval,
Who is so generous and courtly,


232

And his father is so rich a king,
In that we have not brought him here.
With that, they have turned back;
They go back to his lodging.


236

They bring Lanval with them by their prayer.
A une fenestre entailliee
s'esteit la reïne apuiee;
treis dames ot ensemble od li.


240

La maisniee le rei choisi;
Lanval conut e esguarda.
Une des dames apela;
par li manda ses dameiseles,


244

les plus quointes e les plus beles,
od li s'irrunt esbaneier
la u cil erent el vergier.
Trente en mena od li e plus;


248

par les degrez descendent jus.
Li chevalier encuntre vunt,
ki pur eles grant joie funt.
Il les unt prises par les mains:


252

cil parlemenz n'ert pas vilains.
The queen had seated herself
On the embrasure of a window;
She had three ladies together with her.


240

She perceived the retinue of the king:
She recognized Lanval and observed him.
She called one of her ladies;
Through her she sent word to her damsels,


244

The most gracious and the most beautiful.
With her they will go disport themselves
Where those knights were in the orchard.
Thirty of them she took with her, and more.


248

They go down below by the steps.
The knights go to meet them;
On the women's account they make great joy.
They have taken the women by the hands;


252

This encounter was not crass!
Lanval s'en vait de l'altre part,
luin des altres. Mult li est tart
que s'amie puisse tenir,


256

baisier, acoler e sentir;
l'altrui joie prise petit,
se il nen a le suen delit.
Quant la reïne sul le veit,


260

al chevalier en va tut dreit.
Lez lui s'asist, si l'apela;
tut sun curage li mustra.
'Lanval, mult vus ai honuré


264

e mult cheri e mult amé.
Tute m'amur poëz aveir:
kar me dites vostre voleir!
Ma druërie vus otrei;


268

mult devez estre liez de mei!'
Lanval goes off in the other direction,
Far from the others. He is impatient
To be able to hold his lady friend,
256 To kiss, embrace, and feel her;
The joy of others he counts as little,
If he does not have his own pleasure.
When the queen sees him alone,


260

She goes directly to the knight.
She sat next to him, and addressed him;
She showed him all her heart.
"Lanval, I have greatly honored


264

And cherished and loved you.
You can have all my love!
Tell me, pray, your will.
I grant you my affection.


268

You must be very happy with me!"
Lines 269-310. A Woman Scorned
'Dame,' fet il, 'laissiez m'ester!
Jeo n'ai cure de vus amer.
Lungement ai servi le rei,


272

ne li vueil pas mentir ma fei.
Ja pur vus ne pur vostre amur
ne mesferai a mun seignur.'
La reïne se curuça,


276

iriee fu, si mesparla.
'Lanval', fet ele, 'bien le quit,
vus n'amez guaires tel deduit.
Asez le m'a hum dit sovent,


280

que de femme n'avez talent.
Vaslez avez bien afaitiez,
ensemble od els vus deduiez.
Vileins cuarz, malvais failliz,


284

mult est mis sire mal bailliz,
ki pres de lui vus a sufert,
mien esciënt que deu en pert.'
"Lady," he says, "Let me be!
I have no interest in loving you.
I have long served the king;


272

I do not want to betray my fidelity to him.
Never on your account nor on account of your love
Will I ever act badly towards my lord."
The queen grew angry.


276

She was incensed, and so misspoke:
"Lanval," she says, "I really think
You scarcely like this kind of pleasure.
People have told me often enough


280

That you have no desire for women.
You have very serviceable squires;
You take your pleasure together with them.
Base-hearted! Wicked traitor!


284

My lord is very ill served
Who has allowed you near him.
I think he is losing God's favor as a result."
Lines 277-86. The queen's rejoinder puts one in mind of how, in the 12th-century Roman d'Enéas (Romance of Æneas), a text Marie knew, Lavinia's mother makes a similar accusation with regard to the Trojan hero. In both cases, the accusing women refer to common report (which report, if it existed at all, they have leapt on opportunistically).

Quant il l'oï, mult fu dolenz.


288

Del respundre ne fu pas lenz;
tel chose dist par maltalent,
dunt il se repenti sovent.
'Dame', dist il,'de cel mestier


292

ne me sai jeo niënt aidier.
Mes jo aim e si sui amis
cele ki deit aveir le pris
sur tutes celes que jeo sai.


296

E une chose vus dirai:
bien le saciez a descovert
qu'une de celes ki la sert,
tute la plus povre meschine,


300

valt mielz de vus, dame reïne,
de cors, de vis e de bealté,
d'enseignement e de bunté.'
La reïne s'en part a tant;


304

en sa chambre s'en vait plurant.
Mult fu dolente e curuciee
de ceo qu'il l'out si avilliee.
En sun lit malade culcha;


308

ja mes, ceo dit, n'en levera,
se li reis ne li faiseit dreit
de ceo dunt ele se pleindreit.
When he heard her, he was very sorrowful;


288

He was not slow to respond.
He said such a thing out of anger
Of which he often repented.
"Lady," he said, "For that business


292

I am perfectly useless.
But I love, and am the lover of,
The woman who must have the prize
Over all those that I know.


296

And I will tell you something:
Know it well and openly
That anyone of those ladies who serve her,
The very poorest serving-girl,


300

Is worth more than you, lady queen,
In body, in visage and in beauty,
In instruction and in goodness."


304

With that, the queen departs:
To her room she goes off weeping.
She was very sorrowful and angry
Because he had insulted her.
In her bed she lay down ill.


308

Never, she says, will she get up from it,
If the king should not do her justice
For what she would make plaint.
Lines 311-412. Accusation and Deferral
Li reis fu de bois repairiez,


312

mult out esté le jur haitiez.
Es chambres la reine entra.
Quant el le vit, si se clama,
as piez li chiet, merci li crie


316

e dit que Lanval l'a hunie:
de druërie la requist;
pur ceo qu'ele l'en escundist,
mult la laidi e avilla:


320

de tel amie se vanta,
ki tant ert cuinte, noble e fiere
que mielz valeit sa chamberiere,
la plus povre ki la serveit,


324

que la reïne ne faiseit.
Li reis s'en curuça forment;
juré en a sun sairement:
s'il ne s'en puet en curt defendre,


328

il le fera ardeir u pendre.
The king was returned from the woods.


312

He had spent a very agreeable day.
He entered the apartment of the queen.
When she saw him, she cried out,
She falls at his feet, she sues for mercy


316

And says that Lanval has shamed her.
He asked her to be his lover;
Because she turned him down,
He vilified and insulted her greatly.


320

He boasted of such a lady friend
Who was so fine, noble, and proud
That the poorest chambermaid
That served her was worth more


324

Than the queen.
The king grew very angry;
He has sworn his oath on it:
If Lanval is unable to defend himself from the charge in court,


328

He will have him burned or hanged.
Fors de la chambre eissi li reis;
de ses baruns apela treis,
il les enveie pur Lanval,


332

ki asez a dolur e mal.
A sun ostel fu revenuz;
ja s'esteit bien aparceüz
qu'il aveit perdue s'amie:


336

descoverte ot la druërie.
En une chambre fu tuz sous,
pensis esteit e anguissous.
S'amie apele mult sovent,


340

mes ceo ne li valut niënt.
Il se pleigneit e suspirot,
d'ures en altres se pasmot;
puis li crie cent feiz merci,


344

qu'ele parolt a sun ami.
Sun quer e sa buche maldit;
c'est merveille qu'il ne s'ocit.
Il ne set tant criër ne braire


348

ne debatre ne sei detraire,
qu'ele en vueille merci aveir
sul tant qu'il la puisse veeir.
A las, cument se cuntendra!
The king came forth from the apartment.
He called three of his barons.
He sends them for Lanval,


332

Who has plenty of sorrow and dis-ease.
To his lodging he had returned.
It had become quite clear to him
That he had lost his lady friend:


336

He had revealed their love affair.
He was all alone in a room;
He was pensive and full of anguish.
He calls his lady friend very often,


340

But it didn't do him any good.
He lamented and sighed,
From time to time he fainted;
Then he cries "Mercy!" a hundred times


344

So that she should speak to her lover.
He curses his heart and his mouth;
It's a wonder that he doesn't kill himself.
He cannot so much cry out or bray


348

Or struggle or torment himself
That she chooses to have mercy on him,
Even just that he can see her.
Alas, what will he do?

352

Cil que li reis i enveia
i sunt venu, si li unt dit
qu'a la curt vienge senz respit ;
li reis l'aveit par els mandé,


356

la reïne l'a encusé.
Lanval i vet od sun grant doel,
il l'eüssent ocis sun voel.
Il est devant le rei venuz.


360

Mult fu pensis, taisanz e muz;
de grant dolur mustre semblant.
Li reis li dist par maltalant:
'Vassal, vus m'avez mult mesfait!


364

Trop començastes vilein plait
de mei hunir e avillier
e la reïne laidengier.
Vantez vus estes de folie.


368

Trop par est noble vostre amie,
quant plus est bele sa meschine
e plus vaillanz que la reïne.'

352

Those whom the king sent to him
Have come there and have told him
To come to the court without delay:
The king had sent them with that command;


356

the queen has accused him.
Lanval goes there with his great lamenting;
They would have killed him with his blessing.
He has come before the king.


360

He was very pensive, not speaking a word;
He manifests great sorrow.
The king said to him out of great anger:
"Vassal, you have done me great harm!


364

You began a very base affair
Of shaming and offending me
And of insulting the queen.
You have boasted madly.


368

Your lady friend is exceedingly noble,
Seeing that her serving-girl is more noble
And more worthy than the queen."
Lanval defent la deshonur


372

e la hunte de sun seignur
de mot en mot si cum il dist,
que la reïne ne requist ;
mes de ceo dunt il ot parlé


376

reconut il la verité,
de l'amur dunt il se vanta ;
dolenz en est, perdue l'a.
De ceo lur dit que il fera


380

quan que la curz esguardera.
Li reis fu mult vers lui iriez.
Tuz ses humes a enveiez,
pur dire dreit qu'il en deit faire,


384

qu'um ne li puisse a mal retraire.
Cil unt sun comandement fait :
u els seit bel, u els seit lait,
comunement i sunt alé,


388

si unt jugié e esguardé
que Lanval deit aveir un jur,
mes pleges truisse a sun seignur
qu'il atendra sun jugement


392

e revendra en sun present ;
si sera la curz enforciee,
kar dunc n'i ot fors sa maisniee.
Lanval denies

(that he has done)

the dishonor


372

And the shame of his lord
Word for word just as he said,
For he did not ask for the queen's love;
But of that of which he had spoken


376

He recognized the truth,
Of the love of which he boasted.
He is sorrowful for her, he has lost her.
About the matter he tells them that he will do


380

Whatever the court decides.
The king was very angry with him.
He has sent for all his men,
To say rightly what he must do about it,


384

So that no one can take him to task over it.
They have done his commandment;
Like it or not,
They have assembled there


388

And have judged and determined
That Lanval must have a day,
But let him find guarantors to his lord
That he will await his judgment


392

And return to present himself.
Thus the court will be enlarged,
For

(at the moment)

there were none but his retinue.
Al rei revienent li barun,
396 si li mustrerent la raisun.
Li reis a pleges demandez.
Lanval fu suls e esguarez,
n'i aveit parent ne ami.


400

Walwains i vait, ki l'a plevi,
e tuit si cumpaignun aprés.
Li reis lur dit : 'E jol vus les
sur quan que vus tenez de mei,


404

terres e fieus, chescuns par sei.'
Quant pleviz fu, dunc n'i ot el:
alez s'en est a sun ostel.
Li chevalier l'unt conveié;


408

mult l'unt blasmé e chastié
qu'il ne face si grant dolur,
e maldiënt si fole amur.
Chescun jur l'aloënt veeir,


412

pur ceo qu'il voleient saveir
u il beüst, u il manjast;
mult dotouent qu'il s'afolast.
The barons return to the king


396

And related to him the decision.
The king has asked for pledges.
Lanval was alone and at a loss;
He had neither kin nor friends there.


400

Gawain goes to him and has pledged himself on Lanval's behalf,
As do all his companions afterwards.
The king says to them: "I leave him to you,
Against whatever you hold from me,


404

Lands and fiefs, each of you individually."
He

(Lanval)

has gone off to his lodging.
The knights have accompanied him.
They have greatly blamed and chastised him


408

(saying)

That he should not make such great sorrow,
And they speak ill of so foolish a love.
Each day they went to see him,


412

Because they wanted to know
If he ate, if he he drank;
They greatly feared lest he go mad.
Lines 415-60. Legal Expedients
Al jur que cil orent numé,


416

li barun furent asemblé.
Li reis e la reïne i fu.
e li plege unt Lanval rendu.
Mult furent tuit pur lui dolent ;


420

jeo quid qu'il en i ot tels cent
ki feïssent tut lur poeir
pur lui senz plait delivre aveir ;
il ert retez a mult grant tort.


424

Li reis demande le recort
sulunc le cleim e le respuns :
ore est trestut sur les baruns !
Il sunt al jugement alé ;


428

mult sunt pensif e esguaré
del franc hume d'altre païs,
ki entre els ert si entrepris.
Encumbrer le vuelent plusur


432

pur la volenté lur seignur.
On the day that the king's men had named,


416

The barons were assembled.
The king and the queen were there,
And the pledges have rendered up Lanval.
All were very sorrowful for him;


420

I think there were a hundred of their like
Who would have done everything in their power
In order to have him freed of any charge.
He was accused very unjustly.


424

The king asks for the record
According to the the claim and the response:
Now is the whole burden on the barons!
They have gone to the judgement;


428

They are pensive and at a loss
For the noble man of another country,
Who was in such a predicament among them.
(for) Many want to harass him


432

On account of the will of their lord.
Ceo dist li dus de Cornuaille:
'Ja endreit nus n'i avra faille;
kar ki qu'en plurt ne ki qu'en chant,


436

le dreit estuet aler avant!
Li reis parla vers sun vassal,
que jo vus oi numer Lanval;
de felunie le reta


440

e d'un mesdit l'achaisuna,
d'une amur dunt il se vanta,
e madame s'en curuça.
Nuls ne l'apele fors le rei:


444

par cele fei que jeo vus dei,
ki bien en vuelt dire le veir,
ja n'i deüst respuns aveir,
se pur ceo nun qu'a sun seignur


448

deit um par tut porter honur.
Un sairement l'en guagera,
e li reis le nus pardurra.
E s'il puet aveir sun guarant


452

e s'amie venist avant
e ceo fust veirs que il en dist,
dunt la reïne se marrist,
de ceo avra il bien merci,


456

quant pur vilté nel dist de li.
E s'il ne puet guarant aveir,
ceo li devum faire saveir:
tut sun servise pert del rei,


460

e sil deit cungeer de sei.'
The Duke of Cornwall said this:
"Never on our part will there be neglect.
For, whoever may weep and whoever may sing at it,


436

The right must go forward.
The king spoke against his vassal
Whom I hear you name Lanval;
He accused him of treachery


440

and charged him with calomny,
Regarding a love of which he boasted,
And my lady took offense at it.
No one accuses him other than the king.


444

By the faith that I owe you,
Whoever wants to say the truth about it,
The king should never have any response thereto,
Except for this reason: to one's lord


448

One must in all matters show honor.
An oath will serve as Lanval's guarantee in the matter,
And the king will remit him to us.
And if he can have his warrantor


452

And if his lady friend came beforehand,
And if this were true that he said about her,
For which the queen got upset,
Of this he will have forgiveness,


456

Since he didn't say it of her for shame.
And if he cannot have a warrantor
(This we must inform him of)
He loses all

(advantage from)

his service of the king,


460

And the king must banish him from his presence."
Line 433. Why is the Duke of Cornwall the spokesperson for the pro-Lanval party? Perhaps because of the important and varied rôle the holders of this title play in Geoffrey of Monmouth's History of the Kings of Britain, a source Marie would have been familiar with, if only through the Old French version by Wace. In Geoffrey's pseudo-history, the first duke is a great supporter of Brutus (Æneas's great-grandson and the first [human] colonizer of Britain); a later duke becomes the mortal enemy, in a matter of spousal honor, of Uther, the father of Arthur. It is thus perhaps appropriate for the holder of the title in this story to head the loyal opposition.
Lines 434-60. I have followed the interpretation of Jean Rychner.3 The speed with which the duke dismisses the first charge (treason, in the attempt to seduce the queen), that is, the ease with which he accepts Lanval's protestation of innocence – effectively reducing the matter to a case of "He said, She said" – is noteworthy. Are the virtue and the word of the queen already dubious, in the eyes of Arthur's barons?
Lines 461-98. First Interruption
Al chevalier unt enveié,
e si li unt dit e nuncié
que s'amie face venir


464

pur lui tenser e guarentir.
Il lur a dit qu'il ne porreit:
ja par li sucurs nen avreit.
Cil s'en revunt as jugeürs,


468

qu'il n'i atendent nul sucurs.
Li reis les hastot durement
pur la reïne kis atent.
Quant il deveient departir,


472

dous puceles virent venir
sur dous beals palefreiz amblanz.
Mult par esteient avenanz;
de cendal purpre sunt vestues


476

tut senglement a lur chars nues.
Cil les esguardent volentiers.
Walwains, od lui treis chevaliers,
vait a Lanval, si li cunta;


480

les dous puceles li mustra.
Mult fu haitiez, forment li prie
qu'il li deïst se c'ert s'amie,
Il li a dit : 'Ne sai ki sunt


484

ne dunt vienent n'u eles vunt.'
To the knight they have sent,
And they have told him and announced
That he should have his lady friend come


464

In order to protect and warrant him.
He has told them that he would not be able to:
Never through her would he have help.
The messengers leave and return to the judges;


468

Let them not await any help there.
The king kept hastening them greatly
On account of the queen who waits on them.
When they were about to make their decision,


472

They saw two maidens come
On two fine palfreys ambling.
They were very comely.
They are clothed in purple taffeta


476

Right next to their bare flesh.
The judges observe them willingly.
Gawain, with three other knights,
Goes to Lanval, told him the story,


480

Showed him the two damsels.
In very good spirits, he urges him strongly
To tell him if this was his lady friend.
He has told him: "I don't know who they are,


484

Nor whence they come nor where they go."
Celes sunt alees avant
tut a cheval ; par tel semblant
descendirent devant le deis,


488

la u seeit Artur li reis.
Eles furent de grant belté,
si unt curteisement parlé.
'Reis, faites chambres delivrer


492

e de pailes encurtiner,
u madame puisse descendre:
ensemble od vus vuelt ostel prendre.'
Il lur otreie volentiers,


496

si apela dous chevaliers;
as chambres les menerent sus.
A cele feiz ne distrent plus.
The maidens have gone ahead
Still on horseback; appearing so,
They dismounted before the dais


488

Where King Arthur was seated.
They were of great beauty,
And have spoken courteously.
"King, have rooms made ready


492

Draped with silk curtains
Where my lady may stay;
She wishes to be lodged with you."
He grants their wish willingly


496

And called two knights;
They take them to the rooms above.
At that time they said no more.
Lines 499-546. Second Interruption
Li reis demande a ses baruns


500

le jugement e le respuns,
e dit que mult l'unt curucié
de ceo que tant l'unt delaié.
'Sire', funt il, 'nus departimes


504

Pur les dames que nus veïmes
nen i avum nul esguart fait.
Or recumencerum le plait.'
Dunc assemblerent tuit pensif ;


508

asez i ot noise e estrif.
Quant il erent en cel esfrei,
dous puceles de gent cunrei
— vestues de dous pailes freis,


512

chevalchent dous muls Espaigneis—
virent venir la rue a val,
Grant joie en ourent li vassal;
entre els diënt qu'ore est guariz


516

Lanval, li pruz e li hardiz.
Walwains en est a lui alez,
ses cumpaignuns i a menez.
'Sire,' fet il, 'rehaitiez vus!


520

Pur amur deu, parlez a nus!
Ici vienent dous dameiseles
mult acesmees e mult beles.
C'est vostre amie veirement!'


524

Lanval respunt hastivement
e dit qu'il pas nes avuot
n'il nes cunut n'il nes amot.
The king asks his barons


500

For the judgment and the reponse,
And says that they have greatly angered him
By their having delayed it so much.
"Sire," they say, "We suspended the session


504

On account of the ladies that we saw;
We have made no decision.
Now we will begin the proceeding again."
Then they assembled, very pensive;


508

There was quite a bit of dissension.
While they were in this turmoil,
Two maidens finely turned out,
Clothed in two fresh silk gowns—


512

They are riding two Spanish mules—
They saw coming down the street.
Great joy the vassals have at the sight;
They say to each other that now is he saved,


516

Lanval, the valiant and the bold.
Gawain has gone to see him;
He has brought his companions with him.
"Sire," he says, "Be of good cheer!


520

For the love of God, speak to us.
Here come two damsels,
Very elegant and very lovely.
It's your lady friend, truly!"


524

Lanval responds quickly
and says that he did not acknowedge them
Nor did he know them nor did he love them.
A tant furent celes venues;


528

devant le rei sunt descendues.
Mult les loërent li plusur
de cors, de vis e de colur;
n'i ot cele mielz ne valsist


532

qu'unkes la reïne ne fist.
L'ainznee fu curteise e sage,
avenantment dist sun message.
'Reis, kar nus fai chambres baillier


536

a oés madame herbergier;
ele vient ci a vus parler.'
Il les cumanda a mener
od les altres ki anceis vindrent.


540

Unkes des muls nul plait ne tindrent:
Quant il fu d'eles delivrez,
puis a tuz ses baruns mandez,
que li jugemenz seit renduz;


544

trop a le jur esté tenuz;
la reine s'en curuçot,
que trop lungement jeünot.
Now the maidens had arrived;


528

Before the king they have dismounted.
Many praised them greatly
In body, face, and color;
There wasn't one of them that wasn't worthier


532

Than ever the queen was.
The elder was courteous and wise;
Becomingly she said her message:
"King, provide us with rooms, pray,


536

For my lady's use to lodge in;
She is coming here to speak to you."
He ordered for them to be conducted
Where the others were who came before.


540

They were not a bit concerned about the mules.
When he was free of them
He sent word to his barons
That the judgment should be rendered:


544

The day's business has taken too long.
The queen was growing angry
For having too much fasted.
Line 540. The subject of the verb tindrent is not clear, so we cannot be sure who is not concerned about the mules, the two maidens, or the men the king has sent to conduct them. More of a puzzle, though, is: Why should they not be concerned? Perhaps, because, these being fairy mules, they don't need anyone to take care of them…?
Lines 547-600. At Long Last Love
Ja departissent a itant,


548

quant par la vile vint errant
tut a cheval une pucele;
en tut le siecle n'ot si bele.
Un blanc palefrei chevalchot,


552

ki bien e suëf la portot;
mult ot bien fet e col e teste:
suz ciel nen ot plus gente beste.
Riche atur ot el palefrei:


556

suz ciel nen a cunte ne rei
ki tut le peüst eslegier
senz terre vendre u enguagier.
Ele ert vestue en itel guise


560

de chainse blanc e de chemise,
que tuit li costé li pareient,
ki de dous parz lacié esteient.
Le cors ot gent, basse la hanche,


564

le col plus blanc que neif sur branche ;
les uiz ot vairs e blanc le vis,
bele buche, nes bien asis,
les surcilz bruns e bel le frunt


568

e le chief cresp e alkes blunt ;
fils d'or ne gete tel luur
cum si chevel cuntre le jur.
Sis mantels fu de purpre bis,


572

les pans en ot en tur li mis.
Un espervier sur sun poin tint,
e uns levriers aprés li vint.
Il n'ot el burc petit ne grant,


576

ne li veillard ne li enfant,
ki ne l'alassent esguarder,
si cum il la virent errer.
De sa bealté n'est mie gas.


580

Ele veneit meins que le pas.
Li jugeür, ki la veeient,
a grant merveille le teneient;
n'i ot un sul ki l'esguardast,


584

de dreite joie n'eschalfast.
At once they started deliberating,


548

When through the town came swiftly
All mounted a maiden;
In all the age there was none so lovely.
She was riding a white palfrey


552

That bore her very gently.
Its neck and head were well formed;
Under heaven there was no more gracious beast.
The palfrey was richly harnassed:


556

Under heaven there is no count or king
Who could afford it all
Without selling or mortgaging land.
She was clothed in such a manner,


560

In a white shift and tunic,
That her two sides, laced,
Were entirely visible.
She had a fine body: low-slung hips,


564

A neck whiter than snow on the branch,
Sparkling eyes, a white face,
A lovely mouth, a well-placed nose,
Eyebrows dark and a lovely brow,


568

And a head of curls, rather fair—
Golden thread does not cast such a light
As her hair against the day.
Her mantel was of rich purple;


572

She had draped its folds around her.
She held a sparrow-hawk on her wrist,
And a greyhound came after her.
There was in the town neither short nor tall,


576

Neither old folks nor children
Who didn't go to gaze on her
When they saw her proceeding.
Of her beauty there is no jape.


580

She rode on at a very slow pace.
The judges, seeing her,
Considered it a great marvel.
There wasn't a single one looking at her


584

Who didn't grow warm for very joy.
Cil ki le chevalier amoënt,
a lui vienent, si li cuntouent
de la pucele ki veneit,


588

se deu plest, kil deliverreit.
'Sire cumpain, ci en vient une,
mes el n'est pas falve ne brune;
ceo 'st la plus bele de cest mund,


592

de tutes celes ki i sunt.'
Lanval l'oï, sun chief dresça;
bien la cunut, si suspira.
Li sans li est muntez el vis;


596

de parler fu alkes hastis.
'Par fei', fet il, 'ceo est m'amie!
Or m'en est4 guaires ki m'ocie,
si ele n'a merci de mei:


600

kar guariz sui, quant jeo la vei.'
Those who loved the knight
Come to him and told the tale
Of the maiden who was approaching,


588

Who, if God pleased, would deliver him.
"Lord companion, a maiden is coming here,
But she is neither dun nor dark,
She is the loveliest in this world,


592

Of all the maidens that are in it."
Lanval heard it, he raised his head;
He recognized her for sure, and he sighed.
The blood has risen to his face,


596

He was quick to speak.
"By faith," he says, this is my lady friend!
I don't care who may kill me
If she does not have mercy on me,


600

For I am saved if ever I see her."
Lines 601-46. Into the Sunset
La pucele entra el palais;
unkes si bele n'i vint mais.
Devant le rei est descendue,


604

si que de tuz fu bien veüe.
Sun mantel a laissié chaeir,
que mielz la peüssent veeir.
Li reis, ki mult fu enseigniez,


608

s'est tost encuntre li dresciez,
e tuit li altre l'enurerent,
de li servir mult se penerent.
Quant il l'orent bien esguardee


612

e sa bealté assez loëe,
ele parla en tel mesure,
kar de demurer nen ot cure.
'Jeo ai amé un tuen vassal.


616

Veez le ci! Ceo est Lanval!
Achaisunez fu en ta curt,
ne vueil mie qu'a mal li turt,
de ceo qu'il dist. Ceo saces tu


620

que la reïne a tort eü:
unkes nul jur ne la requist,
De la vantance que il fist,
se par mei puet estre aquitez,


624

par voz baruns seit delivrez!'
The maiden entered the palace;
Never did so lovely a one come there.
She has dismounted before the king,


604

Such that she was well seen by all.
She has let her cloak fall
So that they may see her better.
The king, who was very instructed,


608

Has quickly gotten to his feet at her approach,
And all the others honored her;
They strove greatly to serve her.
When they had gazed at her at length


612

And praised her beauty sufficiently,
She spoke in such manner
(For she had no interest in delaying):
"I have loved one of your vassals.


616

Behold him here: It is Lanval!
He was accused in your court.
I do not want him to suffer harm
For what he said. Know this, King:


620

The queen was in the wrong.
Never at any time did he ask for her love.
As to the boast that he made:
If, through me, he can be acquitted,


624

Let him be freed by your barons."
Ceo qu'il en jugerunt par dreit,
li reis otreie k'issi seit.
N'i a un sul ki n'ait jugié


628

que Lanval a tut desraisnié.
Delivrez est par lur esguart,
e la pucele s'en depart.
Ne la pot li reis retenir;


632

asez ot gent a li servir.
Fors de la sale aveit um mis
un grant perrun de marbre bis,
u li pesant hume muntoënt,


636

ki de la curt le rei aloënt.
Lanval esteit muntez desus.
Quant la pucele ist fors de l'us,
sur le palefrei detriers li


640

de plein eslais Lanval sailli.
Od li s'en vait en Avalun,
ceo nus recuntent li Bretun,
en un isle qui mult est beals;


644

la fu raviz li dameiseals.
Nuls n'en oï puis plus parler,
ne jeo n'en sai avant cunter.
What they decided in justice
The king grants that it should be so.
There is not one that has not judged


628

That Lanval has accounted for all.
He is freed by their judgment,
And the maiden departs.
The king was unable to detain her;


632

She had plenty of people to serve her.
Outside of the main hall they had put
A large mounting block of dark marble
Where the heavy men were used to mount their horses


636

When they went from the king's court.
Lanval had climbed up on it.
When the maiden issues from the gate,
Onto the palfrey behind her


640

Lanval leaps in one bound.
With her go goes off to Avalon
(The Bretons tell it thus)
To a very beautiful island;


644

To that place was the youth carried off!
I have not heard anyone ever say anymore about it,
Nor am I able to tell anymore.
Line 632. I.e., bystanders more than willing to, for instance, help her onto her horse and thus facilitate her departure.
---
Commentary
A link to a commentary will appear here shortly.

This work is licensed under a

Creative Commons

Attribution-NonCommercial 4.0 International License.