For the preceding post in this series, see Mark in the Bee-Hive State Part 4.
To his amazement, and without any preparation whatsoever, 'Mark' found himself once again in the presence of Thomas Child, mason, bishop, and creator of Gilgal Garden.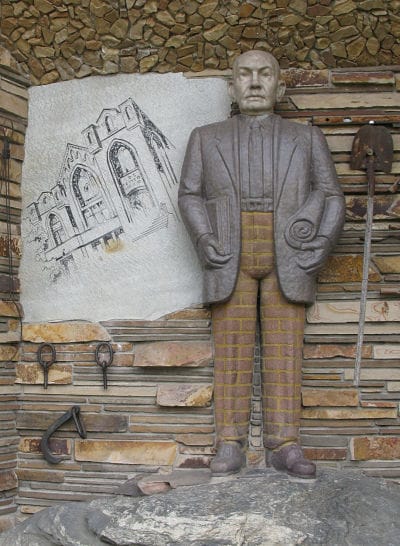 "'Mark,'" said he, "I want you to become, spiritually, like one of my beloved pigeons, for whom I built a magnificent home…
"…and continue your journey of seeking. It will seem to you that you are starting your travels all over again; and so you will be, in a spiritual sense. This time, however, you must encounter and beg the help of supernatural guides with the end of reconciling all the aspects of the universe to each other. To begin this process you must pass through another arch: this one that I have placed in my garden. It is a time portal and will take you back to the beginning of your travels."
'Mark', chastened by his experiences, did as he was told and found himself in the city of Provo, where he was told that his task was to unite old and new, in the form of the old and the new temples of that town.
Somehow, 'Mark' succeeded in accomplishing this incredible task. In the following image, you see him at rest, clearly pleased with himself. Behind him the expanse of the newly unified town (which had been torn by inner divisions) stretches out placidly and, beyond that, Utah Lake and the mountains bordering it in the West, all of which natural features embrace the city approvingly.
Next, 'Mark' was transported to a beautiful fountain ruled by a diminutive but powerful being known as the Lady of the Fountain.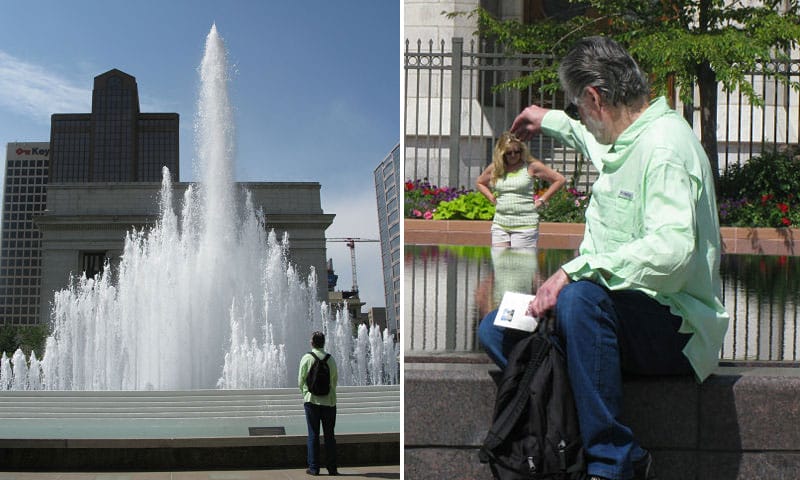 "You have won my favor, something few mortals have done," said the Lady to 'Mark'. "For your reward, place your index finger on the top of my head. Hey presto! Behold, you have been clothed with a miraculous tunic having the same color as my own magic garment. It will enable you to approach the representatives of all living creatures and enlist their help in the process of total unification you are engaged in." 1
That was 'Mark"s next task: to seek the aid of plants…
… and of animals…
…and of beings partaking of the nature of both: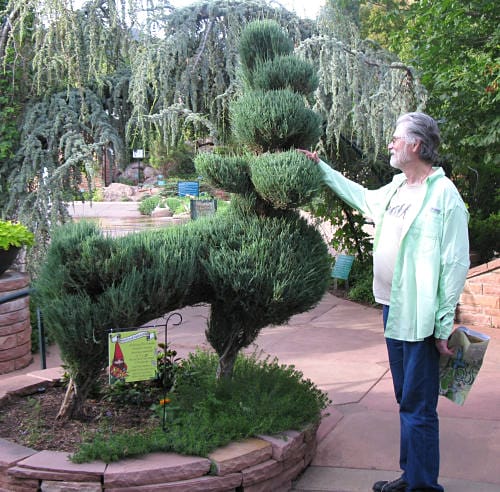 The sight of re-unified living nature was splendid indeed. 'Mark' gazed at it in wonderment.
He knew, however, that a yet greater task lay ahead of him: the reconciliation of the elements—at least three of them: earth, water, air. But how was he to accomplish such a thing? It seemed beyond his powers!
So 'Mark' made sure that his Sun-Hat of Wisdom, which, if you believe this story, Thomas Child had given him, was fixed firmly on his head, and sat himself down on a rough stony fence, where he thought hard for a long time. After which, all of a sudden,—
—the answer came to him! He would set off…
and seek help from beyond the solar system, that is, from alien visitors of a bygone era, depicted in these petroglyphs 2 …
…who told him: you must meditate, meditate, meditate… on the arches…
…on the rock-piles…
…on the plains…
…on the strange stony structures…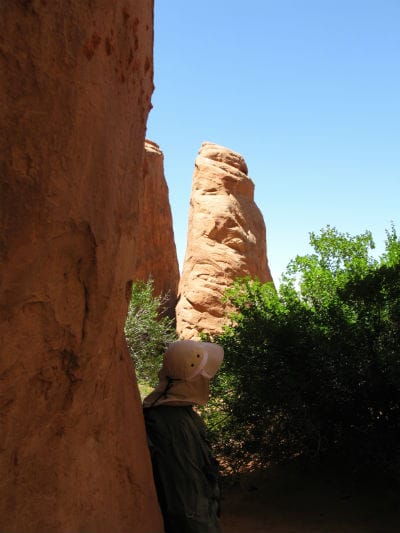 …and, most especially, you must invite people, as the poet says,  to "come in under the shadow of this red rock." 3
All of this 'Mark' did. And, as a result, water sprang forth form the stone (in the form of the Colorado River).
Likewise, the benediction of the powers was indicated by a rainbow appearing over the Region of the Slain Horse 4…
At last, after all these revelations, 'Mark' was given a new vision of the Great Salt Lake, one that completely erased the terrors he had previously conceived regarding it. He saw its sandy shores…
…and its minerally, watery expanse…
…and he realized that in the midst of the Great Salt Lake was an island, on which he himself was standing, which was in fact what made it possible for him to view the lake at all. Now, 'Mark' had heard stories about this island, and he knew that it was referred to by some as the Isle of the Antelope, possibly on account of being in the shape of an antelope. Or possibly for some other reason. But 'Mark', who found it exceedingly fair, thought it could more properly be called the Land of the Promise of the Saints. Part of it consisted of a great plain…
…and part of hills and mountains, and every part of it was beautiful.
Having dwelt delightedly on the Isle of the Antelope and explored it for many weeks, without experiencing any hunger or thirst or any fatigue, at length 'Mark' came to a part that was fairer than any other; he was told or otherwise intuited that it was called the Paradise of Farmer Garr. Here 'Mark' was vouchsafed a vision of a road, and by this road was a fence; both seem to continue endlessly.
Seeing the beauty of the place, 'Mark' sat down at a convenient corner of the fence, and stayed there a long time, viewing the scene before him and gazing down the road.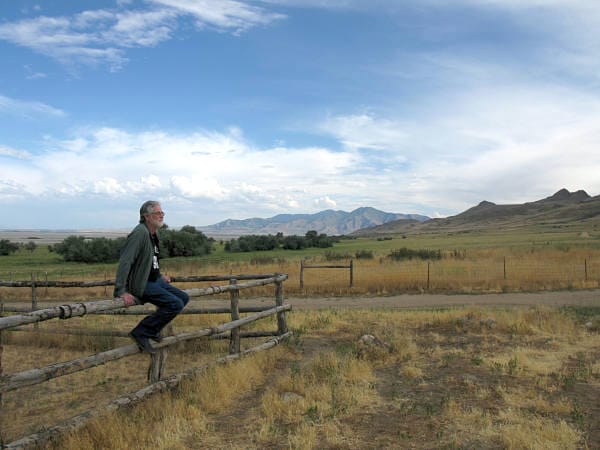 It seemed to 'Mark' that true blessedness would be to stay sitting there forever…
…which, having restored harmony to the universe, and for the purposes of this story, he did.
There are no more posts in this series. For the first post, see Mark in the Bee-Hive State Part 1.