Recently (August 2014) I enjoyed the experience of travelling on the Alaska Marine Highway, a ferry service that plies the Inside Passage and nearby areas.
On the M.V. Columbia, a sign about washing your hands hangs in a men's restroom. It gives not only reasons why you should wash your hands, but detailed instructions how to perform this action. As a public service, I am posting a photo of it here:
Unfortunately, the letters are a little hard to make out. What they say, on the right, is:
Wipe your hands with WARM, running water.
Add soap and rub hands together front and back, between fingers and under nails for about 20 seconds.
Rinse. Dry hands with a clean paper towel.
Turn off water with used paper towel before throwing it away.
Use hand sanitizers when soap and water not available.
So delightful did we find our ferry experience, that I would like to do the crews a good turn by posting a picture of another sign, seen on the M.V. Malaspina:
No doubt you, like me, will want to support the crew in their effort to get their giftshops back. The mailing address for the main office of the Alaska Marine Highway is 3501 Tongass Ave, Ketchikan, AK 99901. Or you can go to their comment form page. Maybe you should also go right to the top, and email the Commissioner of the Alaska Department of Administration, or indeed the Governor hurrimself.
Finally, here is a sign we saw at the ferry office in Skagway ("Gateway to the Yukon") that puzzled us greatly: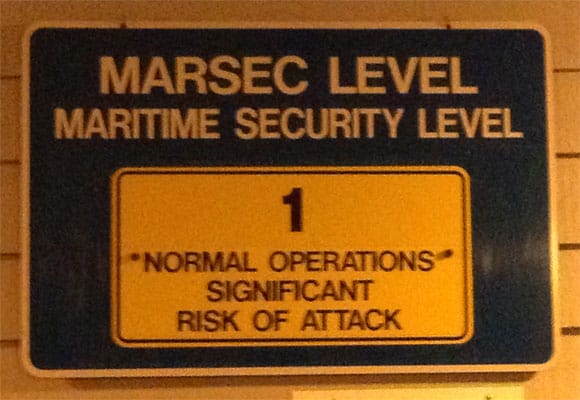 Apparently, on the seas, even at the best of times you are at significant risk of attack. The idea pleased me, because it meant that our ferry voyages, seemingly uneventful, were in reality adventures that could have led us down quite unexpected paths.